WHAT'S ON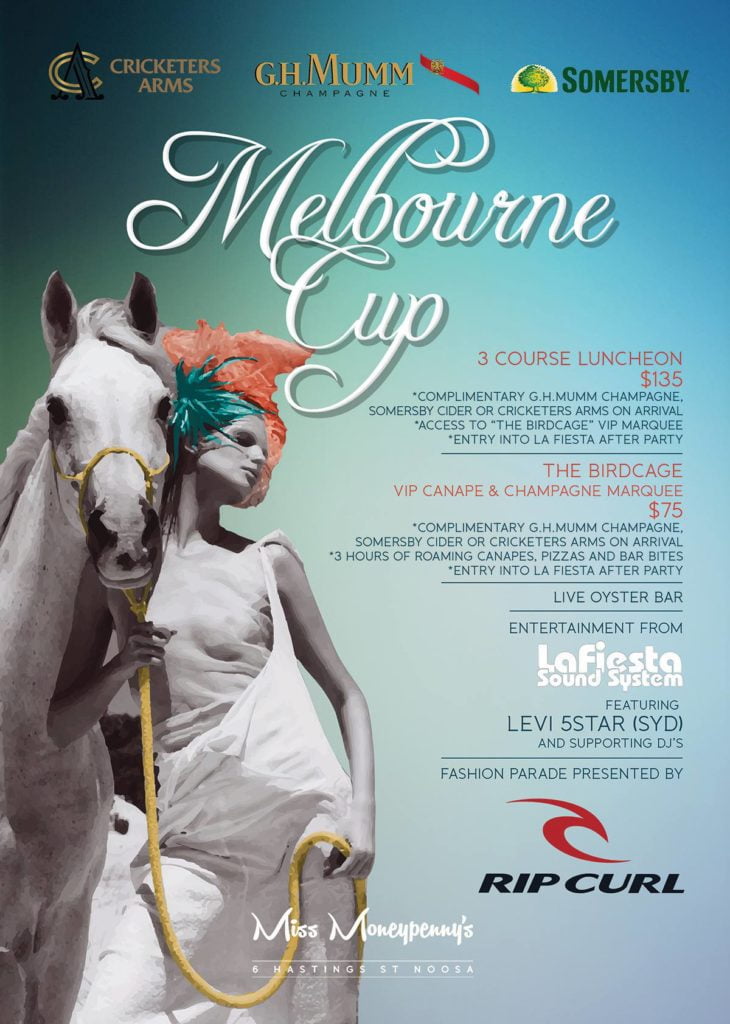 MELBOURNE CUP "EXTRAVAGANZA"
The wait is over … ticket sales for our 2017 Melbourne Cup extravaganza are now open.
We will once again host the highly popular, 'Birdcage' VIP Canape and Champagne Marquee, which allows guests to enjoy a casual, yet sophisticated race day with three hours of roaming canapés, pizzas and bar bites, and is completely unique to Noosa. This is in addition to the option of our sumptuous three course luncheon, and our legendary After Party. 
And to top it off, we have a live oyster bar, serving the freshest oysters on the street, shucked to order. 
This year's fashion parade will be presented by none other than international fashion brand, Rip Curl Australia, showcasing their very latest range in Australian beach attire. And yes, back by popular demand, we have La Fiesta Sound System, featuring Levi 5Star, flying in to entertain us throughout the afternoon and into the evening.
With a wait list that started this time last year, this is a fast-selling event, so get in now and secure your places. Book via email or call 5474 9999.
MELBOURNE CUP "THE AFTER PARTY"
Whatever your plans for Melbourne Cup, make sure you head to Miss Moneypenny's for the most sophisticated soiree of the day.
Our renowned After Party starts at 3pm and YES, back by popular demand, we are once again flying in La Fiesta Sound System (SYD) featuring Levi 5Star!  They will be entertaining throughout the afternoon and into the evening with their unique and brilliant energy that you can't help but get up and dance to.
With complimentary pizzas being served between 4pm and 5pm and a full bar offering, there is absolutely no reason to cut your day short after the lunch.
Don't get left on the street this Cup Day.
Get your tickets in advance for just $10 by calling 5474 9999.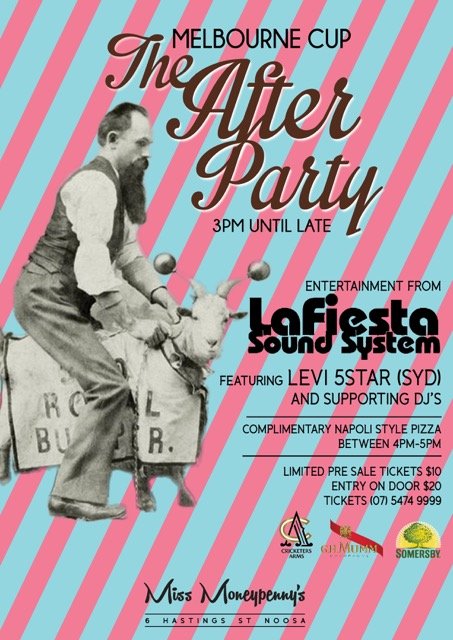 Our weekly specials